Tollgate Crossing Colorado
Tollgate Crossing in southeast Aurora is a master-planned neighborhood with excellent amenities, including a community center with a swimming pool, plus a great location near the Southlands Mall, Colorado's largest outdoor shopping center featuring a variety of major retailers, quaint boutiques, numerous restaurants, plus entertainment venues. Tollgate Crossing is just 30 minutes from downtown Denver, and commutes to DIA are quick and easy.

Tollgate Crossing includes multiple pocket parks, nearby hospitals and many other conveniences, a wide variety of homes from the nation's leading builders, many open space homesites, and it's just minutes away from Aurora Reservoir featuring fishing, non-motorized boating, scuba lessons, a swim beach, concessions, and picnic pavilions.
List of Zipcodes
| Zip Code | Zip Code Name | Zip Code Population |
| --- | --- | --- |
| 80016 | Aurora | 68,849 |
Demographics
| | Zip Code | City | County | State | National |
| --- | --- | --- | --- | --- | --- |
| Population | 68,849 | 380,430 | 654,892 | 5,759,582 | 331,426,769 |
| Population Density | 1,459.9 | 2,449.8 | 820.6 | 55.5 | 93.8 |
| Percent Male | 49.0% | 49.0% | 49.0% | 49.0% | 49.0% |
| Percent Female | 51.0% | 51.0% | 51.0% | 51.0% | 51.0% |
| Median Age | 40.5 | 37.0 | 38.9 | 40.2 | 39.0 |
| People per Household | 2.8 | 2.7 | 2.5 | 2.8 | 2.6 |
| Median Household Income | $117,854 | $63,738 | $75,120 | $115,942 | $61,963 |
| Average Income per Capital | $49,939 | $30,325 | $40,034 | $50,725 | $33,235 |
Market Data
| | Zip Code | City | County | State | National |
| --- | --- | --- | --- | --- | --- |
| Median Sale Price | $578,000 | $358,500 | $402,500 | $425,100 | $277,796 |
| Median Age of Home | 27.0 | 48.0 | 47.0 | 39.0 | 49.0 |
| Homes Owned | 70.0% | 57.0% | 61.0% | 67.0% | 58.0% |
| Homes Rented | 24.0% | 37.0% | 34.0% | 23.0% | 31.0% |
| Homes Vacant | 6.0% | 6.0% | 6.0% | 4.0% | 11.0% |
Market Trend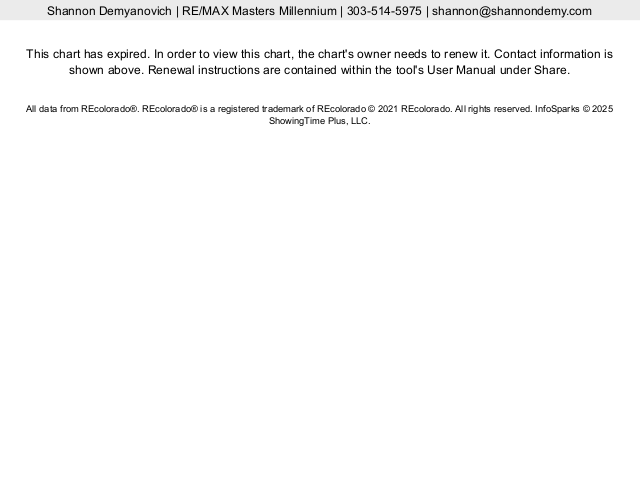 8 properties on market
Contact Us
RE/MAX Masters Millennium
6020 Greenwood Plaza Blvd #100
Greenwood Village, CO 80111, USA
Quality of Life
| | Zip Code | City | County | State | National |
| --- | --- | --- | --- | --- | --- |
| Cost of Living Index | 120.0 | 102.0 | 102.0 | 110.0 | 100.0 |
| Health Cost Index | 131.0 | 115.0 | 114.0 | 119.0 | 100.0 |
| Commute Time | 29.0 | 26.0 | 25.0 | 25.0 | 24.8 |
| Commuting by Bus | 1.0% | 4.0% | 3.0% | 1.2% | 2.1% |
| Commuting by Carpool | 7.0% | 14.0% | 11.0% | 11.0% | 13.5% |
| Commuting by Auto | 85.0% | 79.0% | 81.0% | 80.0% | 79.1% |
| Working at Home | 7.0% | 36.0% | 4.0% | 5.2% | 4.7% |
Walk Score®
Climate & Environment
| | Zip Code | City | County | State | National |
| --- | --- | --- | --- | --- | --- |
| January Average Low Temperature | 17.8 °F | 15.9 °F | 15.9 °F | 13.7 °F | 22.6 °F |
| July Average High Temperature | 85.4 °F | 89.5 °F | 89.5 °F | 77.5 °F | 86.1 °F |
| Annual Precipitation (inch) | 15 in. | 18 in. | 18 in. | 19 in. | 38 in. |
Schools & Education
Safety & Crime
Zip Code
City
County
State
National

Violent Crimes

Calculated annually per 100,000 residents

Assault
175.1
487.8
291.4
246.3
250.2
Murder
2.2
0
7.2
3.8
5.0
Rape
66.7
56.3
79.5
67.2
42.6
Robbery
54.6
43.8
164.1
63.6
81.6

Property Crimes

Calculated annually per 100,000 residents

Burglary
409.0
531.6
461.7
348.4
340.5
Theft
268.2
3,633.8
2,008.4
1,858.3
1,549.5
Motor Vehicle Theft
601.8
387.8
569.1
384.0
219.9
Take a photo of this QR code
to keep this website details